Transform the way you get work done.
Lightship automates complex work, with seamless hand-off between people and automated processes across every area of your business: field, facility, and office.
Connect your enterprise systems, eliminate legacy tech, and fill gaps—with full oversight and monitoring.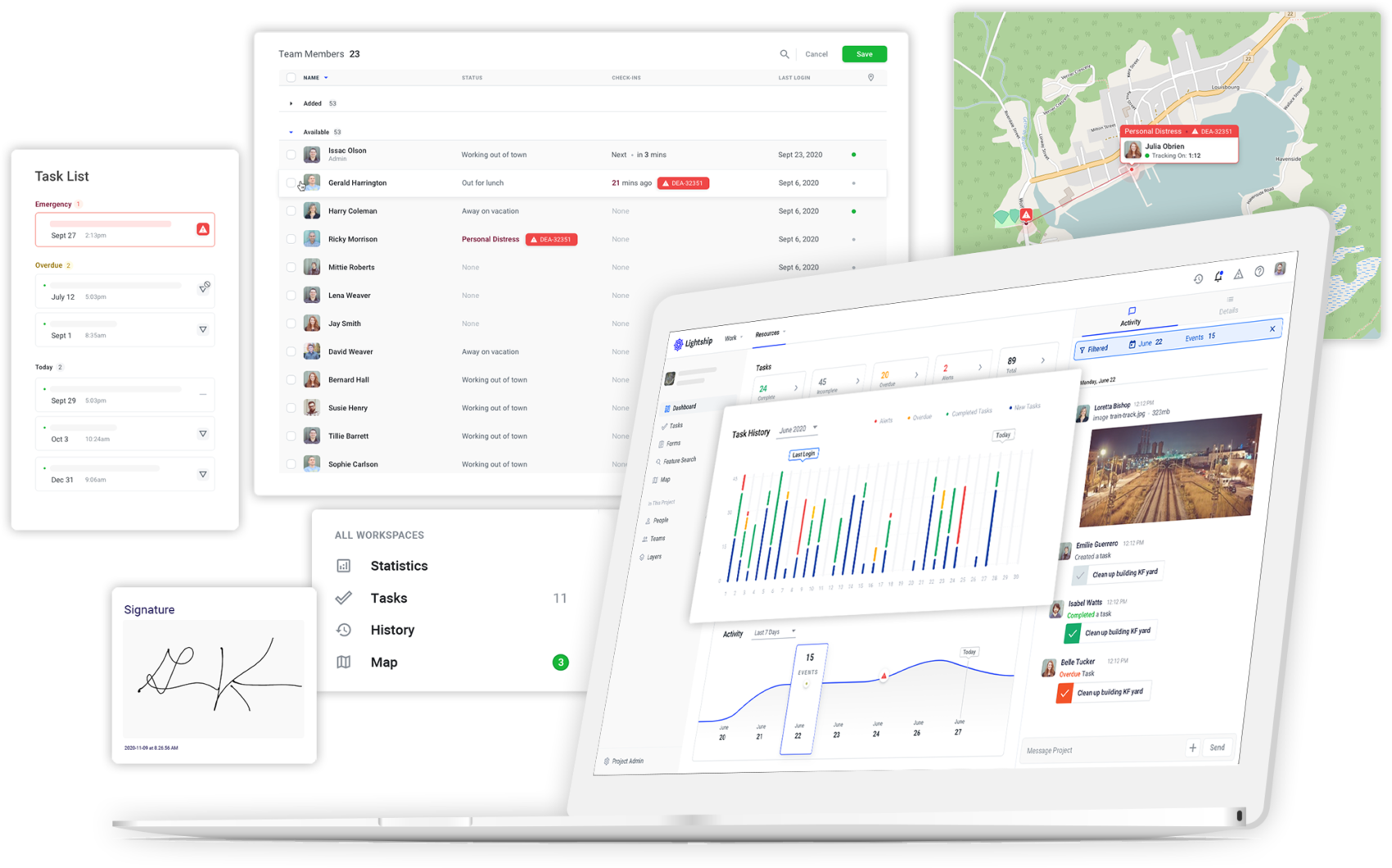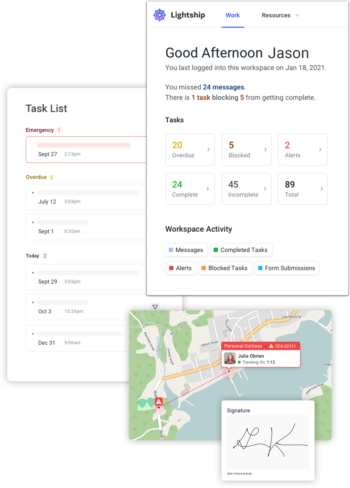 Automate work across your organization
Lightship is a complete platform to automate any process and get work done.
Use it everywhere, eliminating silos.
Replace legacy applications (if you want).
Enjoy our intuitive,
drag-and-drop interface.
Automate processes across multiple departments.
Do you find cross-department workflows slow, tedious, and error-prone?
Most automation solutions are designed to address simple, repetitive processes in one department, so they can't solve this problem.
Lightship's automations can connect and automate your entire business.
Get an automation platform that serves everyone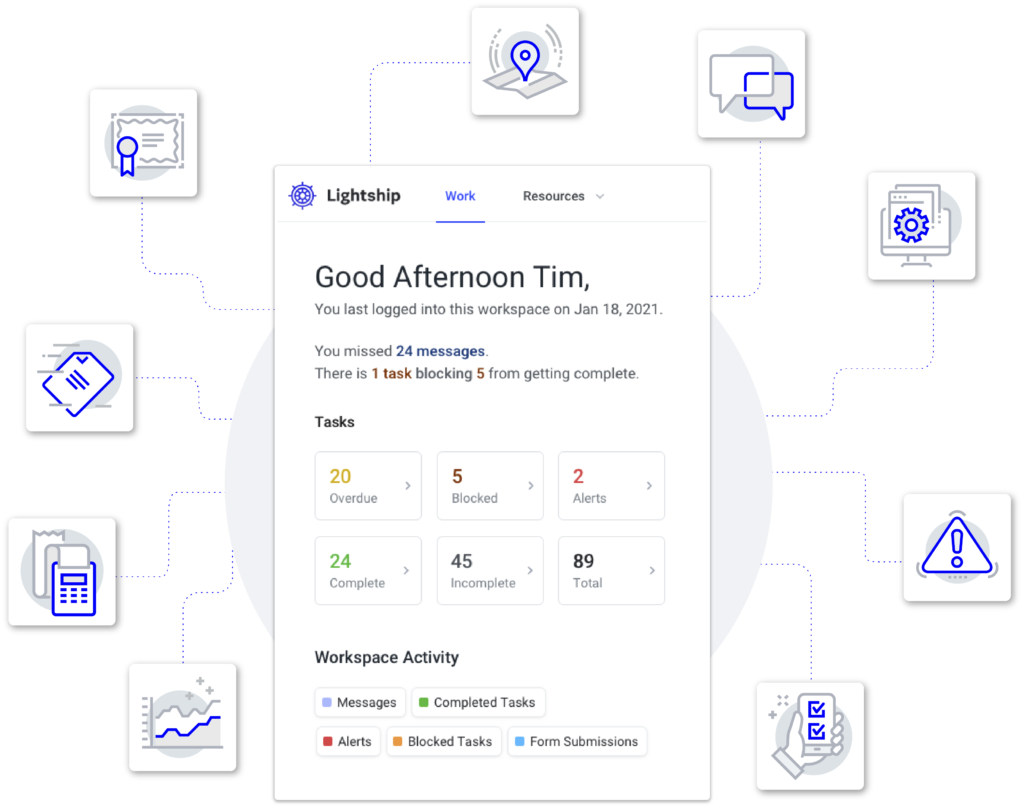 Free your business from legacy software and systems.
Do you find yourself tied to aging, yet mission-critical, applications?
Lightship can replace legacy software, systems, and databases with brand-new applications that mimic their capabilities—but with a modern, easy-to-use interface.
Rebuild your legacy applications as Lightship blocks (we'll help!)

Integrate and share data that used to be siloed, or expensive to extract

Enable automation across every organizational workflow

Reduce your dependency on vendors and support contracts

Consolidate and eliminate costly software licences

Stop worrying about updates and patches for legacy systems
Build workflows easily, with a drag-and-drop interface.
Do you worry that automation might be tough to implement?
Lightship gives everyone in your business the power to automate their work, with pre-designed "blocks" for each process and an intuitive drag-and-drop interface.
Integrate data from systems, databases, and IoT sensors

Capture data and complete work with smartphones

Allocate tasks to anyone in your organization

Integrate with enterprise systems for ERP, accounting, and more

Leverage external tools like Google Translate and AWS Textract

Add signatures, photos, text, and other media

Enable triggers, add logic gates, and set parameters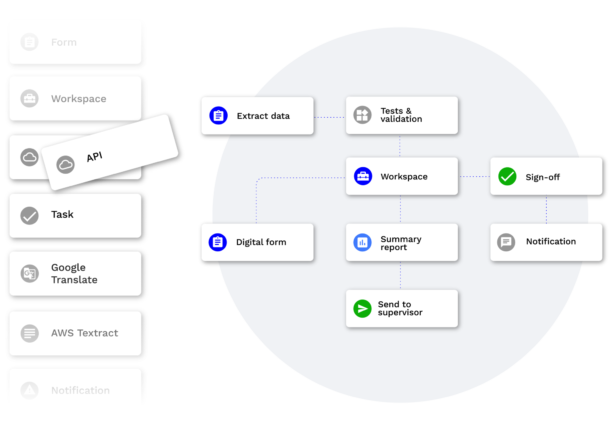 Help people be more productive than ever.
Imagine what your team will be able to accomplish when they can seamlessly hand off tasks to an unlimited number of automated helpers.
Use powerful, intuitive web and mobile apps to do work.
Free up key people to do what they're best at.
Start fast, with clear pricing and minimal IT.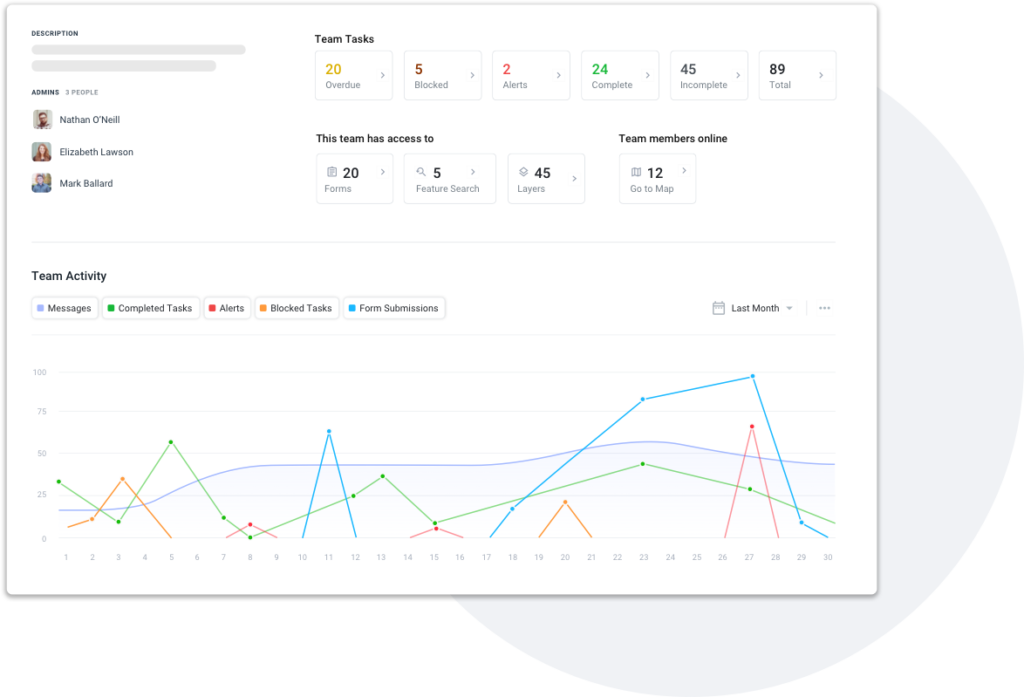 Get your teams using powerful, intuitive web and mobile applications to oversee and do work.
Lightship's dashboards clearly organize and prioritize work, and enable easy oversight of progress (for people and automations).
Get into the field with mobile apps that make it easy to complete tasks, then trigger hand-offs to automations.
Fully integrated communication, notification, and exception handling keeps everyone informed of what's important.
Give each person a dashboard to track workload and priorities

Automatically get key information and background for every task

Easily scan bar codes, enter data, take photos, sign-off, upload documents

Automations enable hand-offs and mandate standard practices

Enable check-ins, location sharing, and distress alarms/span>

Do it all, on-the-go or in the field, with or without connectivity

Use the iOS and Android devices you already have
Free up key people to do what they're best at.
Are key people in your organization overloaded with administrative tasks?
With Lightship automating standard procedures, maintaining records, and reporting, your key people can focus on and accomplish more high-value work while improving delivery.
Replace paper-based tasks with automatic digital processes

Eliminate time-consuming, back-and-forth exchanges

Trigger workflows for incidents and exceptions

Achieve regulatory and compliance demands on autopilot

Save thousands of overtime hours and reduce operational costs

Free your team to perform more important, revenue-generating work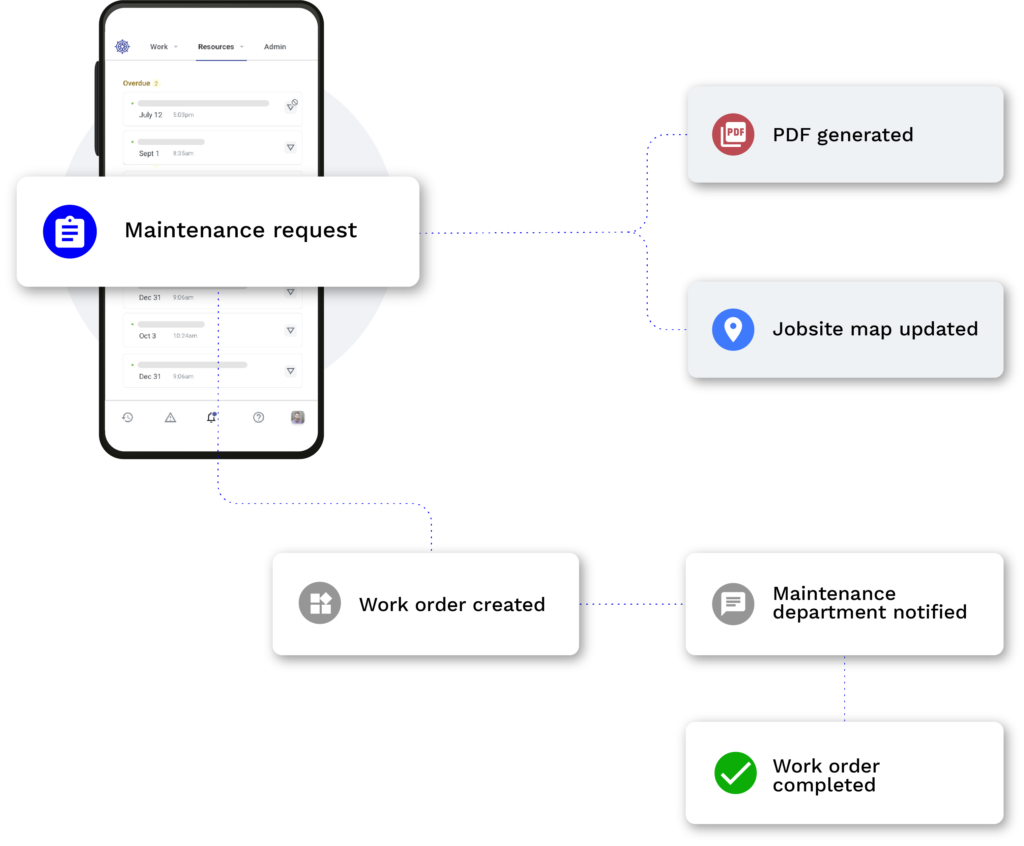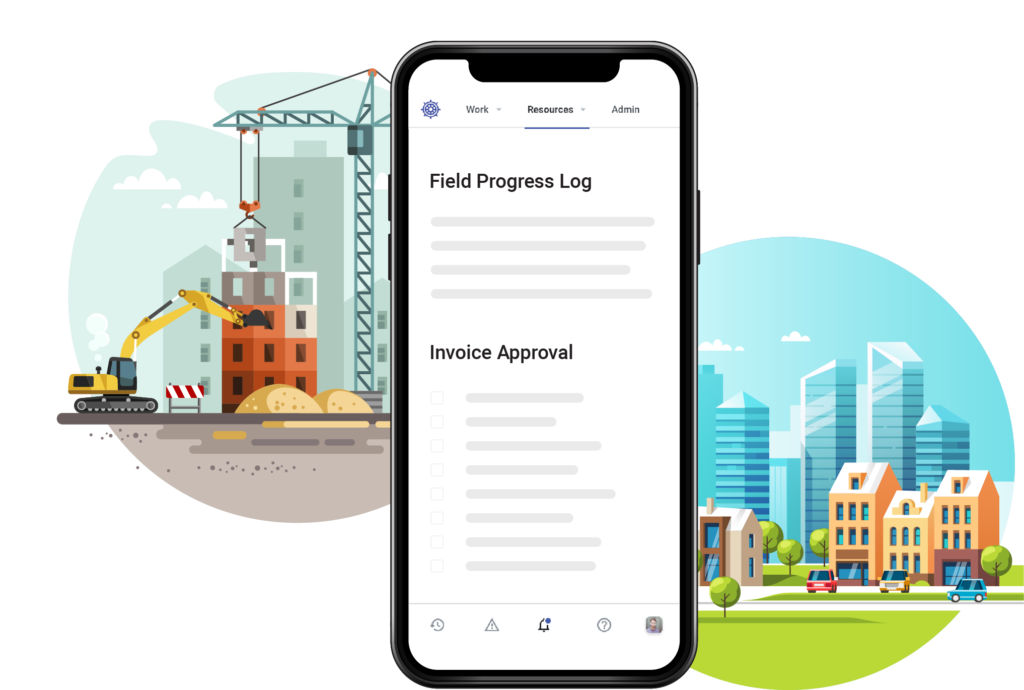 Enjoy easy onboarding, and simple, all-you-can-eat pricing.
Start using Lightship within days, as we work with you to configure automations and interfaces.
No third-party consultants and no setup fees. Just start using!
Start using Lightship within days—not months, or years
Avoid any new IT burden for your organization
Use our high-touch customer success team to make sure it works for you
Enjoy a predictable, SaaS-style subscription cost
Focus on getting work done, not maintaining or configuring the technology!
Are you ready to discover how much more your business could achieve?
It's easy to get started.
Just book a product demo. We'll show you what's possible and discuss how it would apply within your business.
If you'd like to go further, we'll arrange a no-cost proof of concept for one of your processes. When you're ready, we'll explore a wider rollout.
We're ready to help, every step of the way.